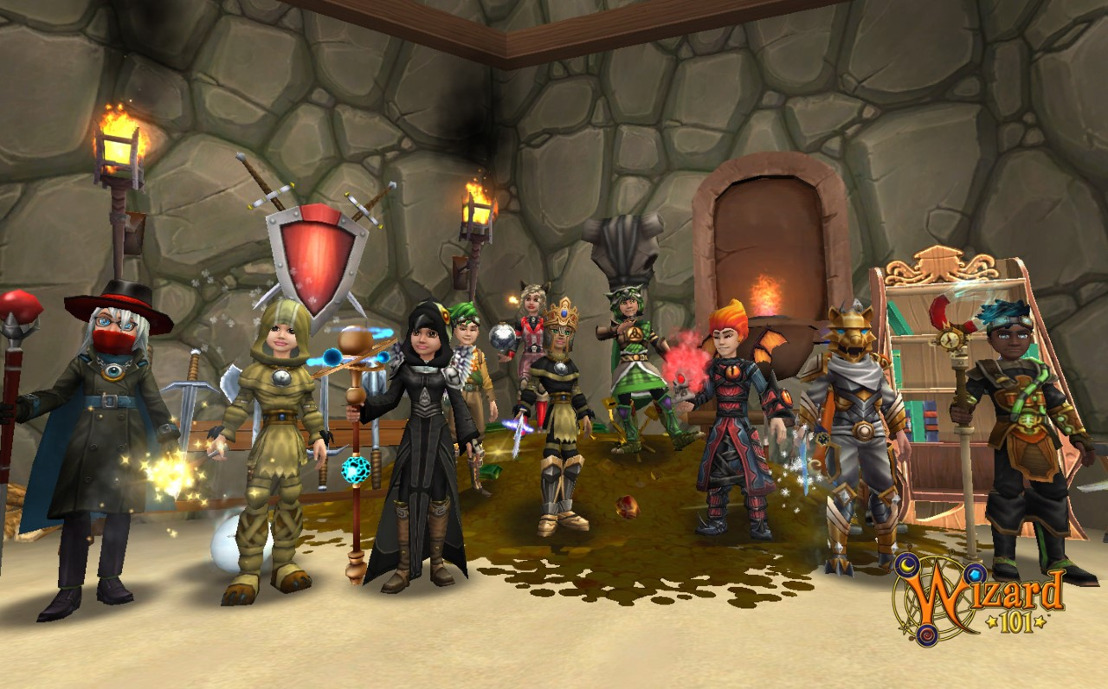 Wizard101 Introduces Guilds and Raids in its highly anticipated Summer Update
KingsIsle will be celebrating Wizard101's Summer Update and 14th birthday with an exclusive announcement at the upcoming gamescom convention in Cologne, Germany, from August 24-28, 2022.
AUSTIN, Texas, August 16, 2022 – KingsIsle Entertainment and gamigo invite players to gather their friends to create the first ever guilds in Wizard101. Starting today, North America-based Wizards will be able to set up a guild, move into their guild house and prepare that house for the new Raids feature. Raids are an extension of the Guilds system where large groups of guild members overcome objectives to defeat formidable boss mobs and acquire special badges and other prominent rewards along the way.
Players that join a guild will have all the key benefits of identifying and interacting with fellow members, including posting on a guild message board about current events or requesting assistance in progressing through the game. The guild house will have many special features available to guild members, including a shared inventory, PvE and PvP combat practicing opportunities, and of course all the decorating options that Wizards love to use for sprucing up their own player houses.
"Our community has wanted easier ways to meet friends in Wizard101 and we're now giving them the ultimate in building new friendships with Guilds." said Artie Rogers, Design Director. "The game has many systems to form lasting bonds with fellow players, but now those friends can become part of a more permanent group than was previously possible."
Wizard101's Summer Update also introduces an exciting new round of options for the competitive PvP-based Beastmoon Hunt and PvE-based Beastmoon Monster Mayhem events, new Skeleton Key Bosses to challenge even the most hardened Wizard's defenses, and new Pet Jewels for your trainable pets that can help your Wizard achieve victory in combat.
KingsIsle will be celebrating Wizard101's Summer Update as well as its ​ 14th birthday with an unannounced exclusive to press at the upcoming gamescom convention in Cologne, Germany, from August 24-28, 2022.
A complete overview of the Summer Update is posted at Wizard101.com.
---
About Wizard101
Featuring over four times as much content since it was first introduced in 2008, Wizard101 players keep coming back for engaging story-driven gameplay across 19 worlds, deep combat, pet systems, and passionate community. Over more than thirteen years, Wizard101 has continued to evolve and entertain almost sixty million players.
Wizard101 receives major updates on a regular basis in the spring, summer, and fall seasons. The game is available from Wizard101.com or on Steam.
About KingsIsle Entertainment
KingsIsle Entertainment, established in 2005, is a proven MMO hit-maker with 50+ million registered users across both our MMOs with vibrant and strong communities. Since its foundation, KingsIsle has devoted itself to family-friendly gameplay, and has built an audience that reaches from pre-tweens to their grandparents. Our award-winning game Wizard101 is currently in its 13th year and Pirate101 is in its ninth.
About gamigo group
The gamigo group is one of the leading publishers of online and mobile games in Europe and North America. The company's diverse game portfolio includes free-to-play titles such as ArcheAge, RIFT, Trove and Aura Kingdom, as well as the recently launched buy-to-play game ArcheAge: Unchained. Counting more than 400 employees, gamigo is one of the largest German companies in the gaming industry. Besides its 5 german locations in Hamburg (HQ), Berlin, Cologne, Münster, and Darmstadt, the gamigo group also has branches in Warsaw (Poland), Istanbul (Turkey), New York, Redwood City, Austin, Bellevue (US), and Seoul (South Korea). In addition to gamigo AG, the group includes the subsidiaries WildTangent, Aeria Games, Verve, and Mediakraft Networks as well as the brands Infernum, Intenium, Looki, and Poged. The company strives to grow not only organically, but also through acquisitions. Since 2013, it has made more than 25 acquisitions, including titles, gaming and technology companies as well as individual game assets.
gamigo Communications PR-Team, gamigo AG