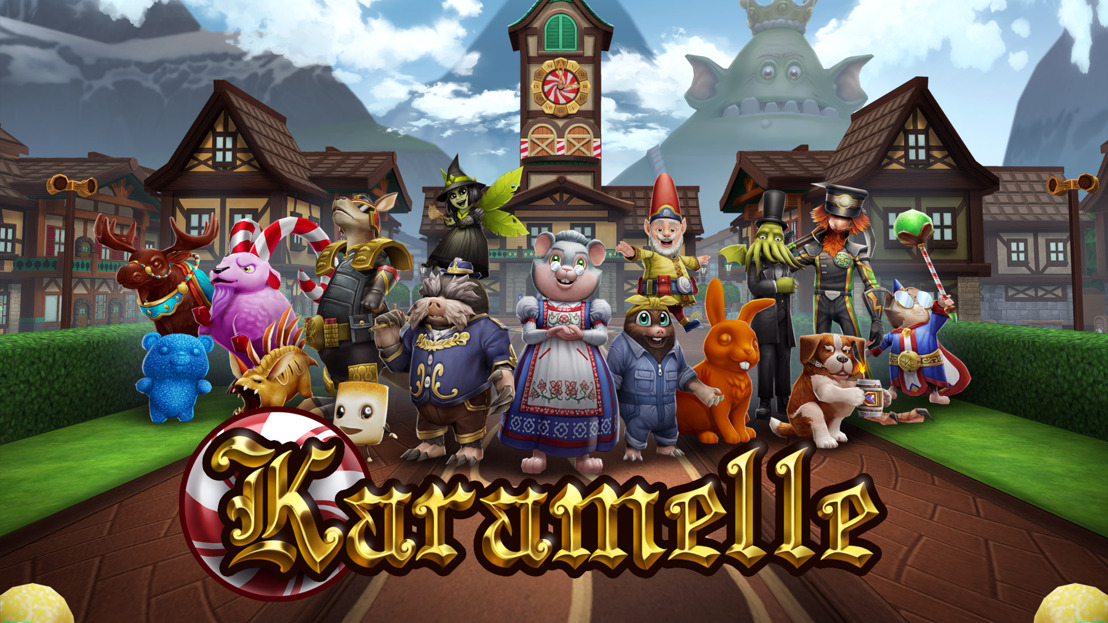 Wizard101 EU Opens the Sugar-Coated Gates to Karamelle
With a new story arc, a level cap increase, and improved PvP matchmaking, we hope Wizards saved room for dessert!
Hamburg - August 31, 2022 – gamigo and KingsIsle Entertainment invite Wizard101 EU players to kick off the game's Fourth Story Arc in the vibrant world of Karamelle. While Wizards can certainly satisfy their sweet tooth in this land of delicacies, something bitter and nasty may be hiding beneath its surface.
Karamelle brings a delicious twist to Wizard101 as players embark on a thrilling adventure interacting with lively characters and exploring vast sugary locales such as the Gumdrop Forest, Sweetzburg, and the Rock Candy Mountains. Along the way, players will uncover the secrets and mysteries hidden within this seemingly cheery world. Today's update also increases the level cap to 140, supplies powerful new school spells, and offers new gear and henchmen.
In addition to Wizard101's storyline expansion, the game's PvP matchmaking has also received an update that will deliver better quality matches and shorter queue wait times. Castle Tours has also received a number of noteworthy improvements including new ways to earn badges and adding three new house categories. Additional features include pet lending and hatchmaking changes, a critical/critical block stat rebalance, and much more!
Last, but certainly not least, it's Wizard101's birthday on September 2 and we invite everyone to partake in our celebrations.
For more information, please visit https://linktr.ee/PlayWizard101EU.
---
About Wizard101
Featuring over four times as much content since it was first introduced in 2008, Wizard101 players keep coming back for engaging story-driven gameplay across 19 worlds, deep combat, pet systems, and passionate community. Over more than fourteen years, Wizard101 has continued to evolve and entertain almost sixty million players.
Wizard101 receives major updates on a regular basis in the spring, summer, and fall seasons. The game is available from eu.wizard101.com.
About KingsIsle Entertainment
KingsIsle Entertainment, established in 2005, is a proven MMO hit-maker with 50+ million registered users across both our MMOs with vibrant and strong communities. Since its foundation, KingsIsle has devoted itself to family-friendly gameplay, and has built an audience that reaches from pre-tweens to their grandparents. Our award-winning game Wizard101 is currently in its 14th year and Pirate101 is in its tenth.
About gamigo group
The gamigo group is one of the leading publishers of online and mobile games in Europe and North America. The group's diverse game portfolio includes free-to-play titles such as Fiesta Online, Trove and Aura Kingdom and mobile games like Fantasy Town and Heroes of Twilight. Counting more than 400 employees, gamigo group is one of the largest players in the gaming industry. Besides its German locations in Hamburg (HQ), Berlin and Darmstadt, the gamigo group also has branches in Austin and Bellevue (US), and in Seoul (South Korea). In addition to gamigo AG, the group includes the subsidiaries gamigo Inc. operating as "WildTangent", gamigo US Inc., gamigo Publishing GmbH and KingsIsle Entertainment, Inc. The gamigo group strives to grow organically as well as through acquisitions. Since 2013, it has made more than 25 acquisitions, including titles, gaming and technology companies as well as individual game assets. The gamigo group is part of Media and Games Invest (MGI). Learn more about gamigo group at https://corporate.gamigo.com/. Learn more about MGI at https://mgi-se.com/.
gamigo Communications PR-Team, gamigo AG