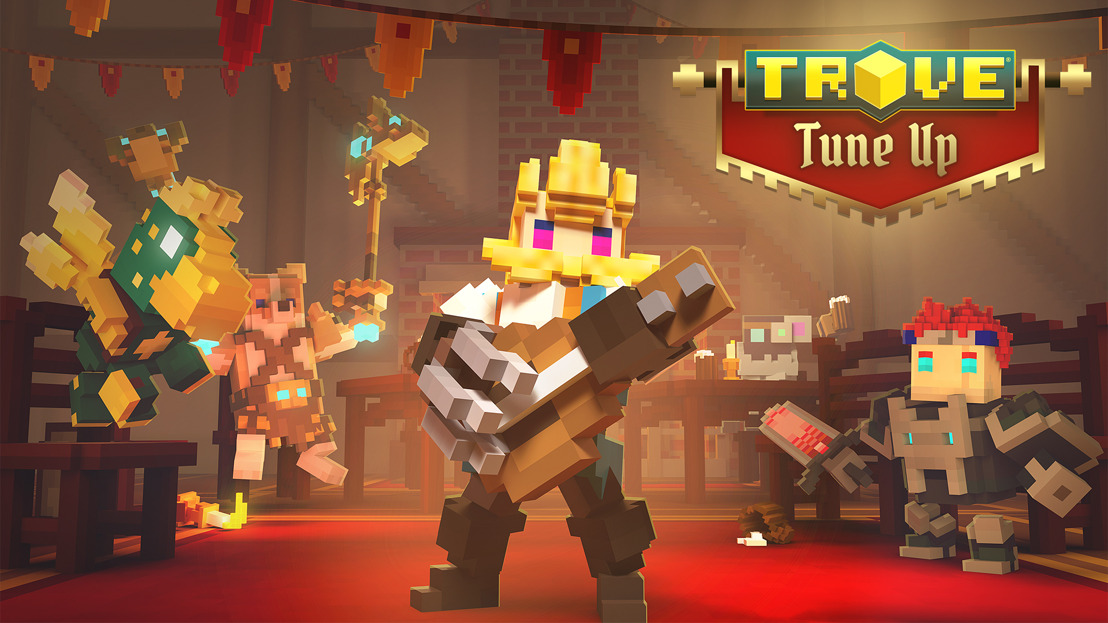 Trove Console Players Can Rock Out as the Bard Starting Today
PlayStation® and Xbox owners can pledge allegiance to the band now that the Bard has taken the stage
Hamburg, September 14th, 2021 – gamigo is pleased to announce the Bard is now available for console versions of its popular Voxel MMO, Trove. Starting today, PlayStation® 4, PlayStation® 5 and Xbox One/X/S players can rock out as the game's latest class to offer both support and healing to their party.
The new Bard class can now weave stylish moves and dazzling songs into numerous powerful abilities across more platforms to buff and aid their fellow adventurers in combat. They're doing all that while dishing out magic damage when facing off against dangers across multiple procedurally generated worlds. Players looking to be one with the rock gods can obtain the Bard exclusively through crafting on the Chaos Crafter or via one of the new Bard Packs.
Today's update also introduces a new crafting tier to Crystallogy, called the Bardmancologist. This section makes it possible to craft allies, mounts, wings, and dazzling costumes for the Bard class. Unfortunately, groupies didn't make the cut since real rockers don't craft them. Groupies are earned. 🤘🏼
With the Bard's release on console, players can now choose from 17 individual classes, including the heroic Vanguardian, the magical Chloromancer and many more. Trove's growing range of classes can accommodate even the most diverse playstyles and the ability to switch between them on the fly allows players to take the fight at a distance they're comfortable with. If worse comes to worst, they can always jump on a flamethrower-equipped dragon to show enemies they mean business.
Nintendo Switch® owners are asked to wait just a little bit longer for the Bard to make their appearance on the platform.
For more information, please visit Trove's official website.
*Note to Editors: A media kit including a trailer and images can be found HERE.
---
About gamigo group
The gamigo group is one of the leading publishers of online and mobile games in Europe and North America. The company's diverse game portfolio includes free-to-play titles such as ArcheAge, RIFT, Trove and Aura Kingdom, as well as the recently launched buy-to-play game ArcheAge: Unchained. Counting more than 400 employees, gamigo group is one of the largest players in the gaming industry. Besides its 4 German locations in Hamburg (HQ), Berlin, Cologne, and Darmstadt, the gamigo group also has branches in Istanbul (Turkey), New York, Redwood City, Austin, Bellevue (US), and Seoul (South Korea). In addition to gamigo AG, the group includes the subsidiaries gamigo Inc. and also operates as WildTangent, Aeria Games, Verve Group and Mediakraft Networks and as the brands Infernum, Intenium, Looki, and Poged. The company strives to grow not only organically, but also through acquisitions. Since 2013, it has made more than 25 acquisitions, including titles, gaming and technology companies as well as individual game assets.
gamigo Communications PR-Team, gamigo AG