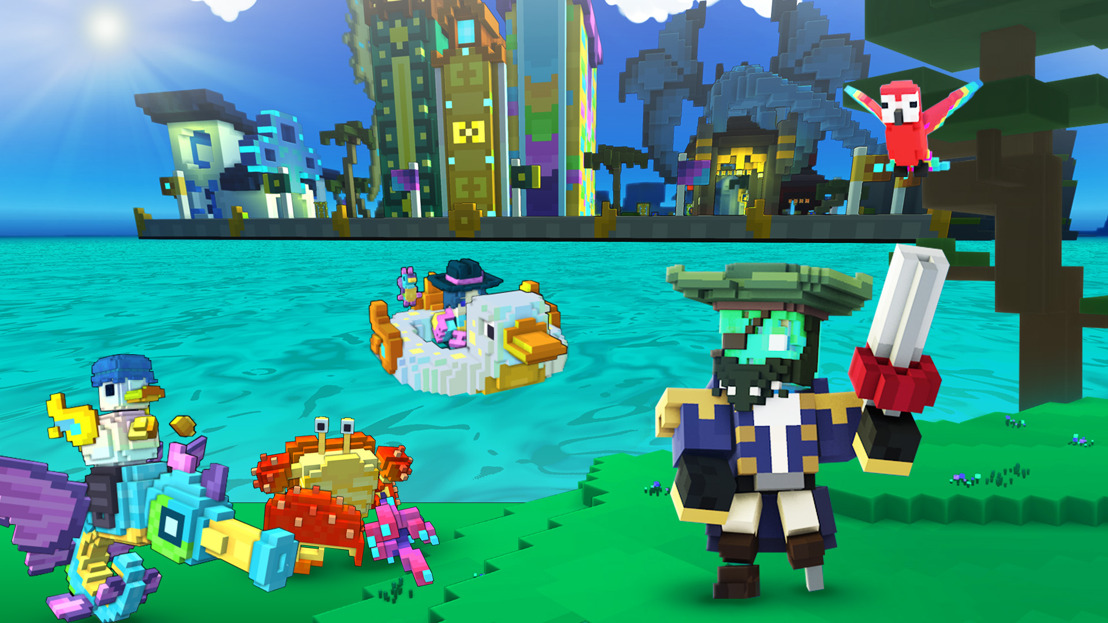 Trove Celebrates 7th Birthday with the Launch of Sunfest
Meet Trove newcomer Chuck Pinzo, but be wary of his promises of vast riches
Hamburg, July 12, 2022 – gamigo invites players to take a break from the summer heat by logging into its popular voxel-based MMO Trove for this year's Sunfest in-game event and to celebrate the game's 7th birthday!
Sunfest 2022 is sure to be unforgettable as Trovians can meet charismatic newcomer Chuck Pinzo as he introduces a new way to become flush with cubits through his own once-in-a-lifetime investment opportunity (or scam, depending on who you ask.) Players who invest in Chuck Pinzo's "opportunity" to make money off the Great Houses of Trove will find themselves strung along a 12-step questline that rewards players with two new currencies, Pinzoins and Trovian Finite Notes (TFN). The former of the two can be used to earn tradable skins from the most recent Bunfest, Shadow's Eve, and Snowfest events while the latter can be redeemed for new mounts, new allies, and Premium Reward Crates containing tradable versions of all of this and last year's allies and mounts.
In addition to Chuck Pinzo's questline and rewards, Trovians can once again purchase delve decoration boxes for the Tysorion, Carys, and Panatea houses from previous Sunfest events. Last year's Sunfest collectables are also available to craft and can be obtained by converting TFNs into the appropriate house's unique currency.
Sunfest 2022 isn't the only reason to jump back into Trove as the game celebrates its 7th birthday! There will be plenty of piñatas spawning at random locations across the world of Trove that will include random rewards players aren't going to want to miss. And if players input the code TROVE7THBIRTHDAY, maybe they'll get something special? *wink*
Gamigo will also be hosting a Trove stream to celebrate the launch of Sunfest and its 7th birthday on its Twitch channel on Friday, July 15, 2022. Twitch drops will also be available the same day.
For more information, please visit the following link: https://linktr.ee/Trovegame
---
About gamigo group
The gamigo group is one of the leading publishers of online and mobile games in Europe and North America. The group's diverse game portfolio includes free-to-play titles such as Fiesta Online, Trove and Aura Kingdom and mobile games like Fantasy Town and Heroes of Twilight. Counting more than 400 employees, gamigo group is one of the largest players in the gaming industry. Besides its German locations in Hamburg (HQ), Berlin and Darmstadt, the gamigo group also has branches in Austin and Bellevue (US), and in Seoul (South Korea). In addition to gamigo AG, the group includes the subsidiaries gamigo Inc. operating as "WildTangent", gamigo US Inc., gamigo Publishing GmbH and KingsIsle Entertainment, Inc. The gamigo group strives to grow organically as well as through acquisitions. Since 2013, it has made more than 25 acquisitions, including titles, gaming and technology companies as well as individual game assets. The gamigo group is part of Media and Games Invest (MGI). Learn more about gamigo group at https://corporate.gamigo.com/. Learn more about MGI at https://mgi-se.com/.
gamigo Communications PR-Team, gamigo AG