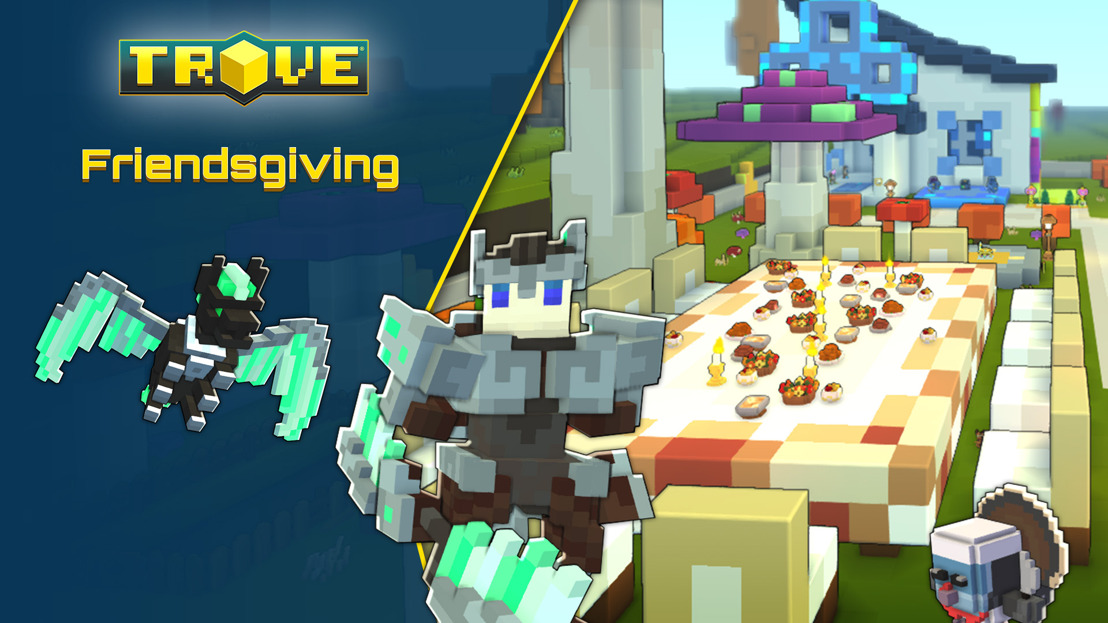 Media Alert: Trove's Friendsgiving Event Now Available
Hamburg, November 15, 2022 – gamigo and Trove are celebrating the upcoming holiday season with the launch of the game's Friendsgiving event on PC, PlayStation, and Switch. This year's festivities include the return of one of the game's most charismatic characters in an all-new questline, new Friendsgiving recipes, and everyone's favorite cube-shaped chef – Chefsly!
Charismatic newcomer Chuck Pinzo is the star of an all-new questline, Pinzo's Penance. Chuck needs the player's help in order to restore his good name after possibly robbing them blind over the summer. If Trovians can help him, then he'll finally get to sit at the Friendsgiving table along with everyone else!
Chefsly has returned for another Friendsgiving event offering a mix of old and new recipes for Trovians to cook. In addition to recipes available from previous Friendsgiving events, 10 new cooking recipes are now available to place on the table located in the hub.
Trove's Friendsgiving event is now available on PC, Xbox, PlayStation, and Switch and will run through November 29, 2022 at 11:00 AM UTC.
For more information, please visit the following link: https://linktr.ee/Trovegame
---
About gamigo group
The gamigo group is one of the leading publishers of online and mobile games in Europe and North America. The group's diverse game portfolio includes free-to-play titles such as Fiesta Online, Trove and Aura Kingdom and mobile games like Fantasy Town and Heroes of Twilight. Counting more than 400 employees, gamigo group is one of the largest players in the gaming industry. Besides its German locations in Hamburg (HQ), Berlin and Darmstadt, the gamigo group also has branches in Austin and Bellevue (US), and in Seoul (South Korea). In addition to gamigo AG, the group includes the subsidiaries gamigo Inc. operating as "WildTangent", gamigo US Inc., gamigo Publishing GmbH and KingsIsle Entertainment, Inc. The gamigo group strives to grow organically as well as through acquisitions. Since 2013, it has made more than 25 acquisitions, including titles, gaming and technology companies as well as individual game assets. The gamigo group is part of Media and Games Invest (MGI). Learn more about gamigo group at https://corporate.gamigo.com/. Learn more about MGI at https://mgi-se.com/.
gamigo Communications PR-Team, gamigo AG