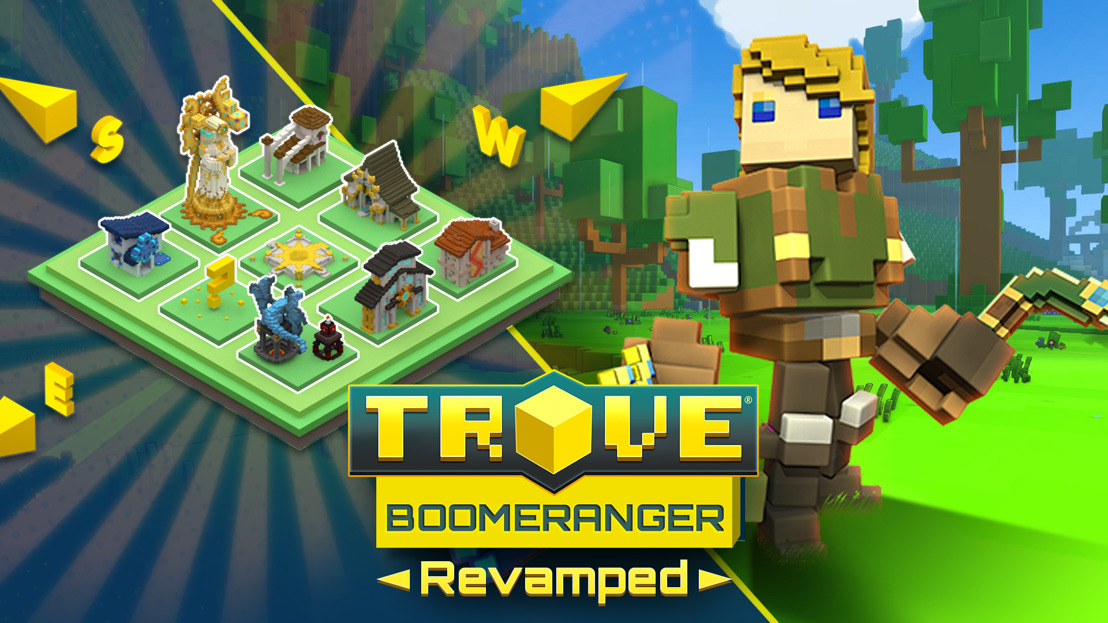 Media Alert: Trove's Boomeranger Class Gets Major Revamp Today
Hamburg, October 04, 2022 – gamigo is announcing Trove's Boomeranger class is receiving a major revamp today that includes a new passive ability, changes to its attacks, and new effects to the class's Mysterious Urn ultimate ability. Additionally, players taking their first steps into Trove will enjoy a more streamlined user experience that will help ease them into the game.
Today's revamp should make the players' weapon choice matter more now that the Boomeranger's melee weapon and bow feature slightly different playstyles. When wielding a melee weapon, this class deals physical damage with each swing allowing its third attack to summon a cyclone that deals even more physical damage every 0.5 seconds for 1.5 seconds. When wielding a bow, physical damage will be dealt as the Boomeranger lets loose a flurry of Fire, Ice, and Bomb Arrows with each draw. Fire Arrows apply damage over time, Ice Arrows slow enemies down, and Bomb Arrows are fired 3 at a time to deal damage to an area.
Regardless of what a player's Boomeranger wields, the new Final Fairy passive ability is here to lend a helping hand. When players are at low health, a fairy companion will heal and grant damage reduction for a short time. Hopefully, this will allow the Boomeranger to get themselves out of trouble – or further jump into the fray to make a final push towards victory!
Finally, the Boomeranger's Ultimate Ability – Mysterious Urn – has received new effects that will not only cause an area of damage where thrown, but a random bonus will also be awarded to the player.
A new user experience has also been implemented aimed at improving flow and reducing points of confusion. For example, the size of NPCs has increased in size to be more noticeable for new players and it's now easier to follow earlier quests by including markers on the compass, map, and a new VFX in game.
Trove's Boomeranger revamp and new user experience update is now available on PC.
For more information, please visit the following link: https://linktr.ee/Trovegame
---
About gamigo group
The gamigo group is one of the leading publishers of online and mobile games in Europe and North America. The group's diverse game portfolio includes free-to-play titles such as Fiesta Online, Trove and Aura Kingdom and mobile games like Fantasy Town and Heroes of Twilight. Counting more than 400 employees, gamigo group is one of the largest players in the gaming industry. Besides its German locations in Hamburg (HQ), Berlin and Darmstadt, the gamigo group also has branches in Austin and Bellevue (US), and in Seoul (South Korea). In addition to gamigo AG, the group includes the subsidiaries gamigo Inc. operating as "WildTangent", gamigo US Inc., gamigo Publishing GmbH and KingsIsle Entertainment, Inc. The gamigo group strives to grow organically as well as through acquisitions. Since 2013, it has made more than 25 acquisitions, including titles, gaming and technology companies as well as individual game assets. The gamigo group is part of Media and Games Invest (MGI). Learn more about gamigo group at https://corporate.gamigo.com/. Learn more about MGI at https://mgi-se.com/.
gamigo Communications PR-Team, gamigo AG