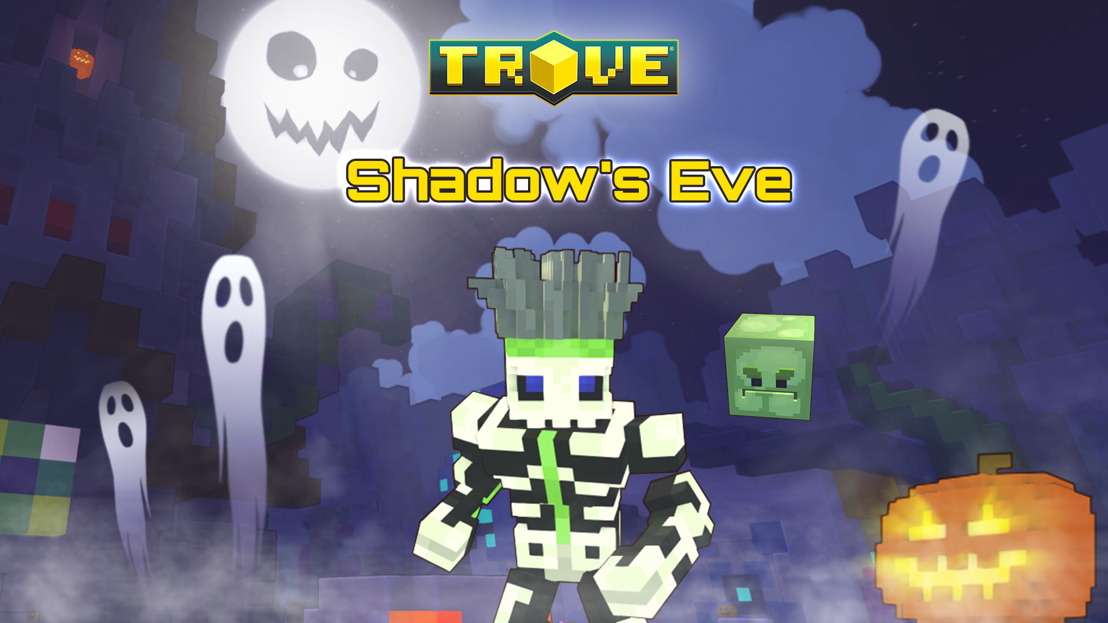 Media Alert: Shadow's Eve Returns in Trove with Halloween-Themed Quests, Events, and Rewards
Hamburg, October 18, 2022 – gamigo beckons children of all ages to gather 'round to celebrate another year of Shadow's Eve in its popular voxel-based MMO, Trove. This year's spooky experience introduces several new quests, collectibles, and buffs while also bringing back fan favorites such as the Wolves' Den, Pumpkin Dungeons, and more!
One of the first things Trovians are going to want to do is follow the Shadow's Eve questline, which helps guide players through all of the fun and frightening activities available this year. Players will meet with Wolfsy in the hub to begin this questline, which consists of collecting pumpkins in the Cursed Vale, clearing pumpkin dungeons, defeating a Wolves' Den boss, and gaining access to the Shadow's Eve daily quests.
Once Trovians gain access to the daily quests in the Shadow's Eve questline, they can jump into the all-new Q'rsed Bite questline that starts off with a meeting with High Priest Lunavic. Collect a number of resources to craft and use the Cleansing Moonshard to ensure players don't become afflicted with the Q'rsed Bite. In addition to earning protection from such a baneful bite, Trovians can also earn the new Q'rsed Direwolf mount and earn a Golden Key for the Q'rsed Crate, which guarantees rare tradeable rewards including two new Bomber Royale bomb styles, a new ally, and a new mount.
Trove's Shadow's Eve event is now available on PC, Xbox, PlayStation, and Switch and will run through November 1, 2022 at 11:00 AM UTC.
For more information, please visit the following link: https://linktr.ee/Trovegame
---
About gamigo group
The gamigo group is one of the leading publishers of online and mobile games in Europe and North America. The group's diverse game portfolio includes free-to-play titles such as Fiesta Online, Trove and Aura Kingdom and mobile games like Fantasy Town and Heroes of Twilight. Counting more than 400 employees, gamigo group is one of the largest players in the gaming industry. Besides its German locations in Hamburg (HQ), Berlin and Darmstadt, the gamigo group also has branches in Austin and Bellevue (US), and in Seoul (South Korea). In addition to gamigo AG, the group includes the subsidiaries gamigo Inc. operating as "WildTangent", gamigo US Inc., gamigo Publishing GmbH and KingsIsle Entertainment, Inc. The gamigo group strives to grow organically as well as through acquisitions. Since 2013, it has made more than 25 acquisitions, including titles, gaming and technology companies as well as individual game assets. The gamigo group is part of Media and Games Invest (MGI). Learn more about gamigo group at https://corporate.gamigo.com/. Learn more about MGI at https://mgi-se.com/.
gamigo Communications PR-Team, gamigo AG