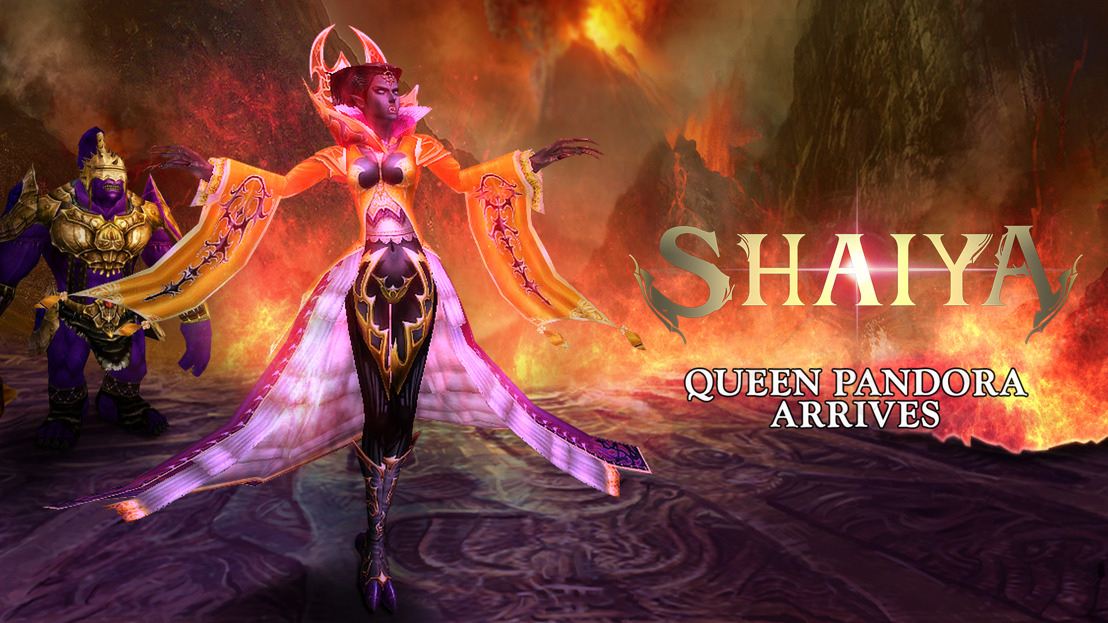 Media Alert: Queen Pandora Arrives in Shaiya
Hamburg, September 27, 2022 – gamigo announces that with today's update, 'Queen Pandora arrives' in fantasy MMOPRG Shaiya and players must protect Teos.
A new danger arises, when Pandora, the Queen of the Abyss, and her three knights invade the Desert Spa and the Void. Players will go on a five-step quest ​ to obtain items needed to craft the remaining bracelet from the Eternal Jewelry and thus achieve the final synergy.
But this thrilling new task isn't the only new content for Shaiya! Today's update also introduces the start of a new Token System, a remodeled in-game economy. Players can find the NPC Fassade in Boltagate, who has a new quest available every day. The reward for completing the daily quest is a new Copper Token that can be spent in the new item store located in the vicinity of Fassade.
The gates to Boltagate were opened in Shaiya earlier in September. This new capital city provides players with new possibilities and fast travel to the places they desire to go. Boltagate enables players to find player shops and auction house boards, trade directly with their friends and trading partners, to go directly to Oblivio Insulae, their Guild House, the Service Center, or even join the FFA event, all from one place.
The update also contains various quality-of-life improvements like the new Lapis exclusive for weapons and fixed texts and textures.
For more information on Shaiya, please visit the following links:
---
About gamigo group
The gamigo group is one of the leading publishers of online and mobile games in Europe and North America. The group's diverse game portfolio includes free-to-play titles such as Fiesta Online, Trove and Aura Kingdom and mobile games like Fantasy Town and Heroes of Twilight. Counting more than 400 employees, gamigo group is one of the largest players in the gaming industry. Besides its German locations in Hamburg (HQ), Berlin and Darmstadt, the gamigo group also has branches in Austin and Bellevue (US), and in Seoul (South Korea). In addition to gamigo AG, the group includes the subsidiaries gamigo Inc. operating as "WildTangent", gamigo US Inc., gamigo Publishing GmbH and KingsIsle Entertainment, Inc. The gamigo group strives to grow organically as well as through acquisitions. Since 2013, it has made more than 25 acquisitions, including titles, gaming and technology companies as well as individual game assets. The gamigo group is part of Media and Games Invest (MGI). Learn more about gamigo group at https://corporate.gamigo.com/. Learn more about MGI at https://mgi-se.com/.
gamigo Communications PR-Team, gamigo AG