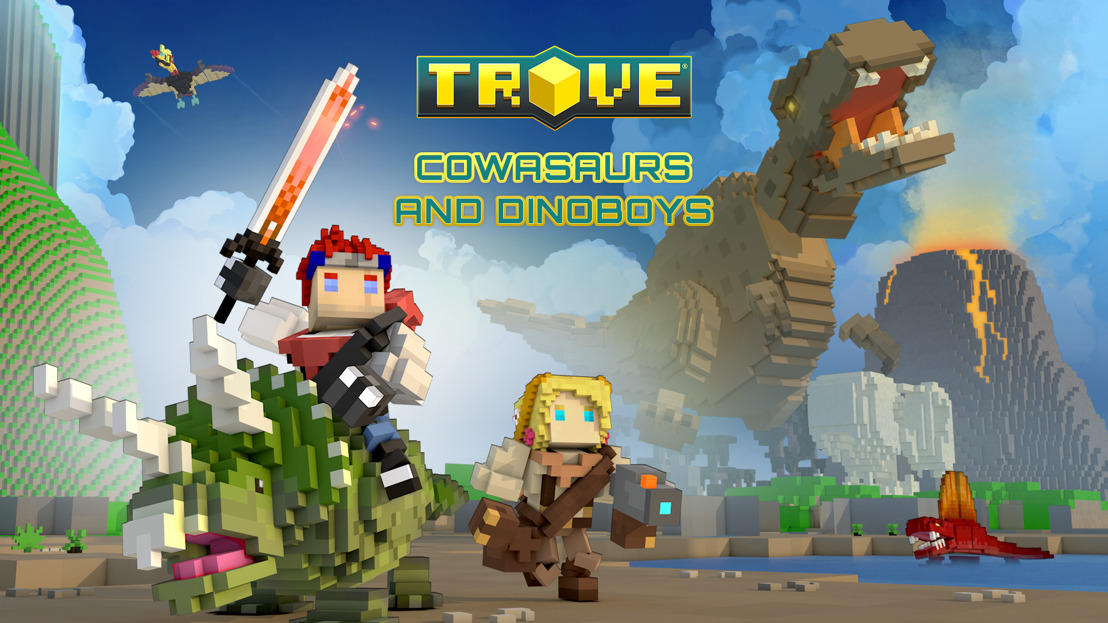 Media Alert: It's the Battle of the Centuries as Trove Pits Cowboys Vs. Dinosaurs in its Latest In-Game Event!
Hamburg, September 13, 2022 – gamigo is pleased to announce it's giving Trove players the opportunity to decide once and for all which is better – Dinosaurs or Cowboys – in its latest in-game event, Cowasaurs and Dinoboys!
In this battle between icons from the Cenozoic and Jurassic periods, Trovians will visit the Desert Frontier and Jurassic Jungle regions to earn rewards for the faction of their choice. Each faction will feature a 7-step questline that will either help Cowboys spread the word about the awesomeness of Dinosaurs or help Dinosaurs humblebrag Cowboys into everyone's hearts. Once the initial 7-step questlines are complete, players can continue earning points for their faction by completing 3 new daily quests, which in turn earns them rewards such as new banners, target dummies, and more.
Cowasaurs and Dinoboys 2022 is now available on PC, Xbox, PlayStation, and Switch.
For more information, please visit the following link: https://linktr.ee/Trovegame
---
About gamigo group
The gamigo group is one of the leading publishers of online and mobile games in Europe and North America. The group's diverse game portfolio includes free-to-play titles such as Fiesta Online, Trove and Aura Kingdom and mobile games like Fantasy Town and Heroes of Twilight. Counting more than 400 employees, gamigo group is one of the largest players in the gaming industry. Besides its German locations in Hamburg (HQ), Berlin and Darmstadt, the gamigo group also has branches in Austin and Bellevue (US), and in Seoul (South Korea). In addition to gamigo AG, the group includes the subsidiaries gamigo Inc. operating as "WildTangent", gamigo US Inc., gamigo Publishing GmbH and KingsIsle Entertainment, Inc. The gamigo group strives to grow organically as well as through acquisitions. Since 2013, it has made more than 25 acquisitions, including titles, gaming and technology companies as well as individual game assets. The gamigo group is part of Media and Games Invest (MGI). Learn more about gamigo group at https://corporate.gamigo.com/. Learn more about MGI at https://mgi-se.com/.
gamigo Communications PR-Team, gamigo AG