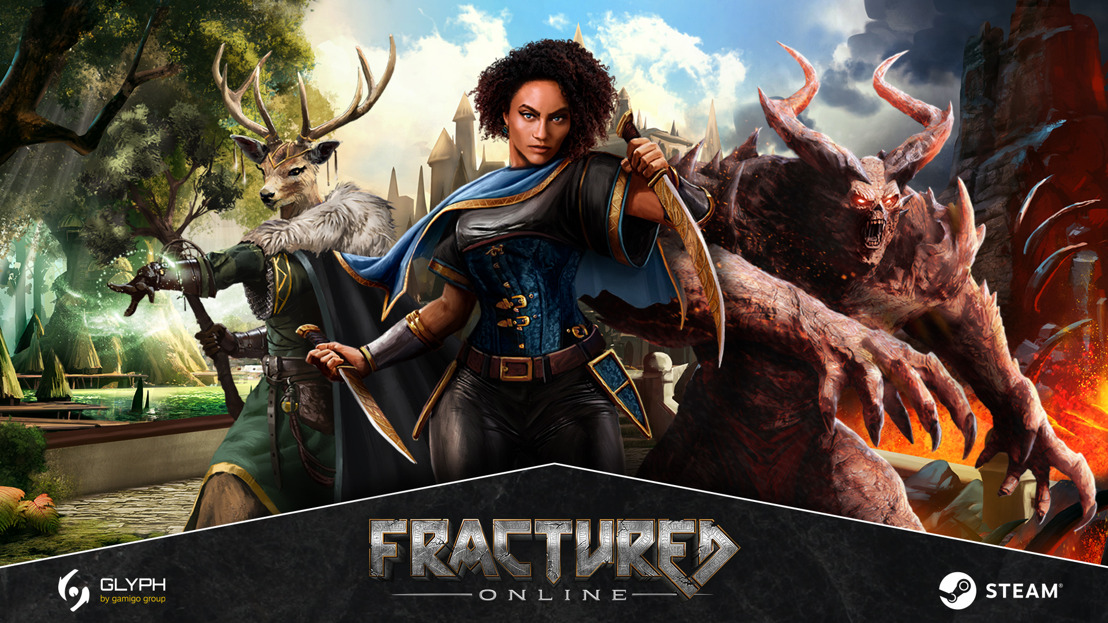 Media Alert: Fractured Online Introduces Interplanetary Travel, New Wildfolk Sub-race and More in Latest Update
Hamburg, October 20, 2022 – gamigo and Dynamight Studios are excited to announce the latest patch for the first truly dynamic, isometric open-world MMORPG, Fractured Online, is now available. Today's update introduces interplanetary travel, a new Wildfolk sub-race, new ways to combat world bosses and a handful of bug fixes.
Adventurers looking to journey beyond their own horizon can now venture towards a stargate to initiate interplanetary travel – for a price, of course. Once the price of admission has been paid in the form of primal crystals, players will be able to activate the structure in order to travel from one planet to another, such as Syndesia to Arboreus.
Speaking of Arboreus, a new sub-race of Wildfolk is being introduced today following community feedback in the form of Iridra, also known as Blessed Humans. This Wildfolk sub-race of human took an affinity to a more peaceful life living in harmony with nature. As a result, they were accepted and blessed by Wildfolk and given new gifts to better help them channel primal energy. These blessings also changed the nature and basic instincts of the Iridra as any other Wildfolk would, specifically ensuring they always have a good alignment. Along with their distinct visual appearance, they enjoy several stat bonuses along with increased luck and health/mana regeneration.
The Legends of Terra is a new feature that gives players the chance to summon world bosses in order to challenge them at any time. When a world boss is summoned successfully, they'll be represented on the player's map with a red icon. This should help adventurers find their prey with ease - or help them avoid a certain location if they suddenly regret their summon.
For more information on Fractured Online, please visit https://linktr.ee/FracturedOnline
---
About Dynamight
Dynamight Studios is an indie game development studio based in Milan, Italy. Its mission is to innovate the world of sandbox MMOs by opening it up to audiences that have been cut off from what it believes is the most exciting online game genre - and one with exceptional growth perspectives, too. The studio is working to bring Fractured Online, its flagship game, to the global market. Fractured Online promises to breathe new life into the sandbox MMO genre with an all-new approach to inter-world gameplay, character progression and player settlement management.
About gamigo group
The gamigo group is one of the leading publishers of online and mobile games in Europe and North America. The group's diverse game portfolio includes free-to-play titles such as Fiesta Online, Trove and Aura Kingdom and mobile games like Fantasy Town and Heroes of Twilight. Counting more than 400 employees, gamigo group is one of the largest players in the gaming industry. Besides its German locations in Hamburg (HQ), Berlin and Darmstadt, the gamigo group also has branches in Austin and Bellevue (US), and in Seoul (South Korea). In addition to gamigo AG, the group includes the subsidiaries gamigo Inc. operating as "WildTangent", gamigo US Inc., gamigo Publishing GmbH and KingsIsle Entertainment, Inc. The gamigo group strives to grow organically as well as through acquisitions. Since 2013, it has made more than 25 acquisitions, including titles, gaming and technology companies as well as individual game assets. The gamigo group is part of Media and Games Invest (MGI). Learn more about gamigo group at https://corporate.gamigo.com/. Learn more about MGI at https://mgi-se.com/.
gamigo Communications PR-Team, gamigo AG