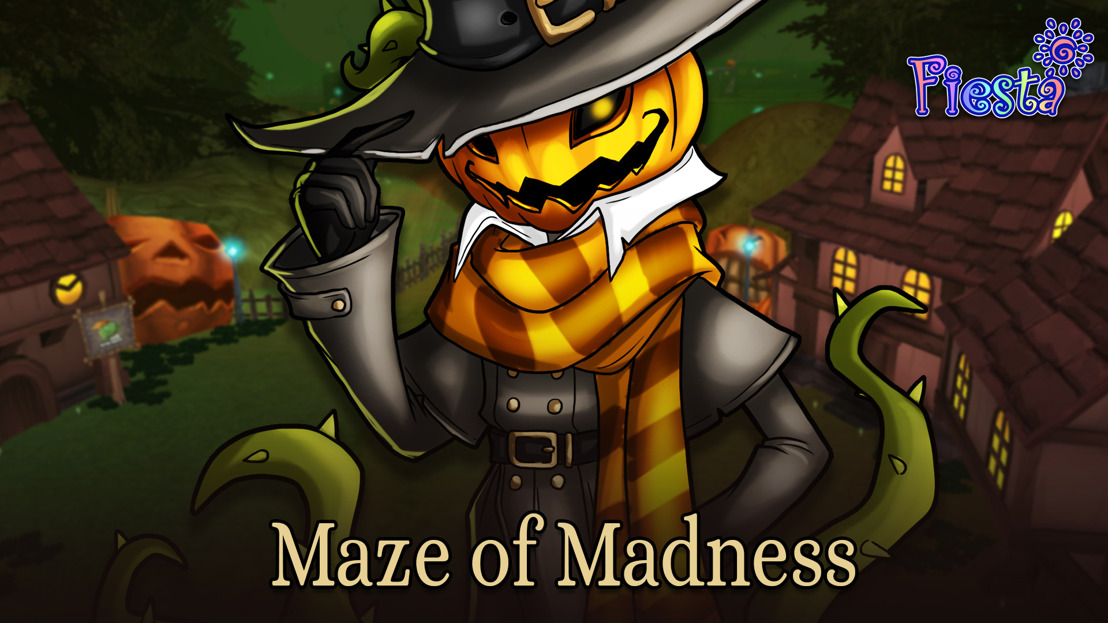 Media Alert: Fiesta Online invites to the Maze of Madness
Hamburg, October 25, 2022 – It's spooky season in gamigo's anime MMO Fiesta Online,where all major towns will be decorated specifically for this occasion.
In addition, the following events will take place:
Maze of Madness: Can players beat the intricate maze that Sir Gourd van Pumpkin set up fast enough? If they do, titles and Halloween Reward Tickets wait for them. To get more tickets, they should also consider taking on Bill the Boss who resides in the middle of the labyrinth. And if they're still going slightly mad, they should take a look at the Pumpkin Pass which offers additional daily quests to obtain even more of those coveted tickets.
Horror Candy: Halloween is the time for lots of sweets, so this time players can make their own candy in a special quest series. But something isn't quite right with this candy! Consuming it causes some rather odd effects… Trick or treat, as they say! For it can give players helpful buffs... or irritating debuffs. It can even turn players into monsters. But that candy is just SO tempting, isn't it?
Asylum of Madness Collection: Halloween is also the time to showcase the latest costumes, so players can acquire these mind-boggling new clothes in the item shop or ingame.
For more information on Fiesta Online, please visit the following links:
---
About gamigo group
The gamigo group is one of the leading publishers of online and mobile games in Europe and North America. The group's diverse game portfolio includes free-to-play titles such as Fiesta Online, Trove and Aura Kingdom and mobile games like Fantasy Town and Heroes of Twilight. Counting more than 400 employees, gamigo group is one of the largest players in the gaming industry. Besides its German locations in Hamburg (HQ), Berlin and Darmstadt, the gamigo group also has branches in Austin and Bellevue (US), and in Seoul (South Korea). In addition to gamigo AG, the group includes the subsidiaries gamigo Inc. operating as "WildTangent", gamigo US Inc., gamigo Publishing GmbH and KingsIsle Entertainment, Inc. The gamigo group strives to grow organically as well as through acquisitions. Since 2013, it has made more than 25 acquisitions, including titles, gaming and technology companies as well as individual game assets. The gamigo group is part of Media and Games Invest (MGI). Learn more about gamigo group at https://corporate.gamigo.com/. Learn more about MGI at https://mgi-se.com/.
gamigo Communications PR-Team, gamigo AG