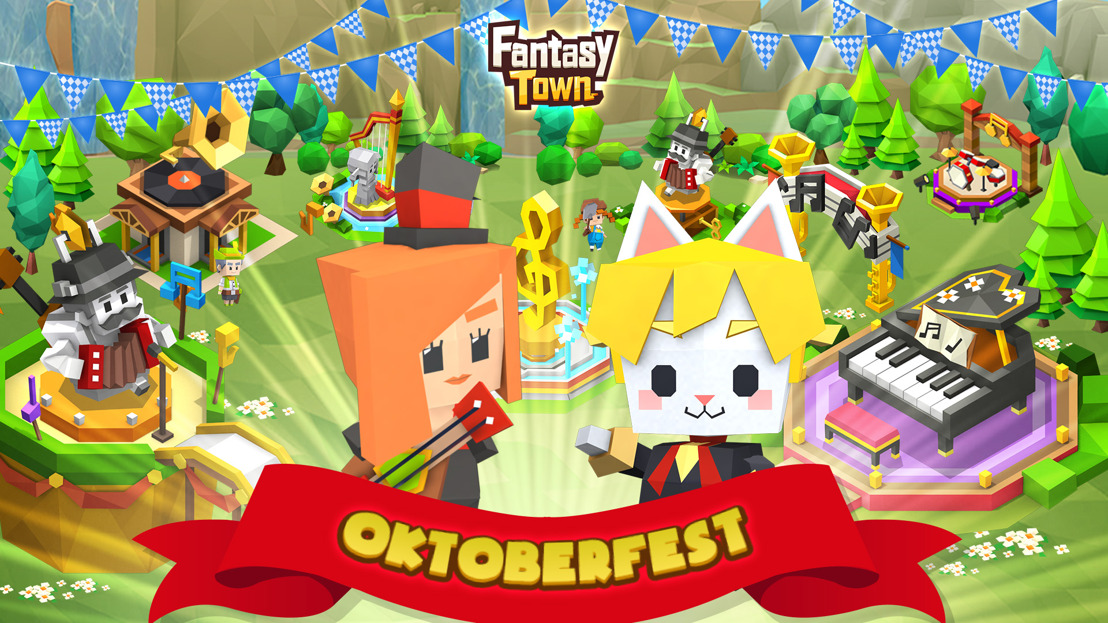 Media Alert: Fantasy Town Raises a Mug for Oktoberfest in its Latest In-Game Event
Hamburg, September 21, 2022 – Summer may be coming to an end, but the fun continues in Gamigo's farming simulation game, Fantasy Town. Today, Tommy and the rest of the kingdom are bringing the sights, sounds, and tastes of Oktoberfest to the mayor. Will this event be the catalyst to finally get the mayor to stay put? Tommy certainly thinks so!
Fantasy Town's Oktoberfest event introduces several themed rewards that include an Oktoberfest Concert building, plenty of new musically gifted characters, and event materials that are guaranteed to be welcome at any festival, such as Pretzels, Magic Beer, and Lederhosen. Additional rewards that are guaranteed to make your kingdom feel more festive include the Piano Garden, Singing Fountain, Drummer Boy/Girl, and Piano Swing.
To participate in the Oktoberfest event, players will need to collect and create special event-focused items which then can be redeemed for unique festival-timed rewards. Moreover, players will be able to purchase Oktoberfest-themed items during the event, to make their towns even more beautiful. Special trophies will also be delivered to players that sit atop the in-game leaderboards, thus making them the overlord of Oktoberfest!
Fantasy Town's Oktoberfest Event runs until October 2, 2022.
Fantasy Town is now available on Android and iOS.
To learn more about Fantasy Town, please visit the following link: https://linktr.ee/FantasyTown
---
About gamigo group
The gamigo group is one of the leading publishers of online and mobile games in Europe and North America. The group's diverse game portfolio includes free-to-play titles such as Fiesta Online, Trove and Aura Kingdom and mobile games like Fantasy Town and Heroes of Twilight. Counting more than 400 employees, gamigo group is one of the largest players in the gaming industry. Besides its German locations in Hamburg (HQ), Berlin and Darmstadt, the gamigo group also has branches in Austin and Bellevue (US), and in Seoul (South Korea). In addition to gamigo AG, the group includes the subsidiaries gamigo Inc. operating as "WildTangent", gamigo US Inc., gamigo Publishing GmbH and KingsIsle Entertainment, Inc. The gamigo group strives to grow organically as well as through acquisitions. Since 2013, it has made more than 25 acquisitions, including titles, gaming and technology companies as well as individual game assets. The gamigo group is part of Media and Games Invest (MGI). Learn more about gamigo group at https://corporate.gamigo.com/. Learn more about MGI at https://mgi-se.com/.
gamigo Communications PR-Team, gamigo AG