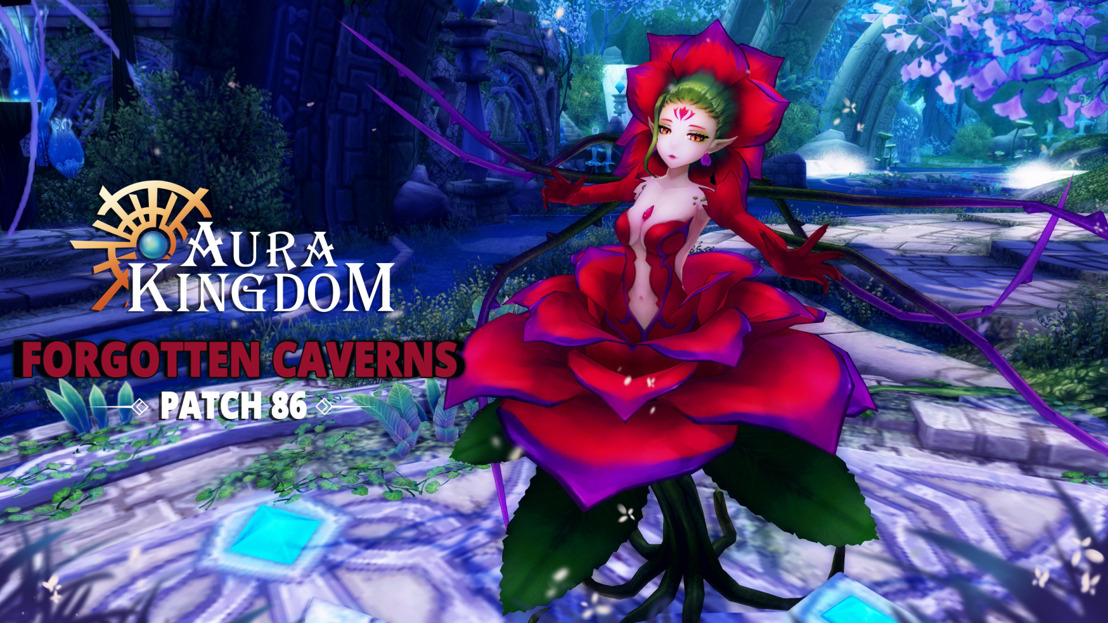 Media Alert: Dare to enter the Forgotten Caverns in Aura Kingdom
Hamburg, June 15, 2022 – gamigo is asking the Envoys of anime MMO Aura Kingdom to be wary when they venture into the "Forgotten Caverns" in patch 86. They would be well advised to bring a companion along to watch their back.
Plenty of adventures await players in the latest update for Aura Kingdom including:
Anti-Epidemic Attack: Let's make Azuria a healthy environment and prevent the invasion of the virus! All Envoys with a character level of 25 or higher are tasked with visiting Terrence in Navea to receive their share of hygienic face masks for distribution. Logging in daily provides the "Home Epidemic Prevention" buff, which offers additional benefits.
Prism Collection Event: The new Prism Collection Event is all about collecting as many Prism Shards as possible. This limited time event includes new and exclusive items that can only be obtained by exchanging Prism Shards with the NPC Isaac to get the 'Prism Tears.'
New Dungeon "Bond – Secret Grass Kingdom": Players with a Slvl10 or higher should head to Gloomy Ridge to find this new dungeon. They need to be careful though since normal attacks don't work there. To figure this out, Envoys need to bring a battle buddy – only the power of two gives them a chance to succeed.
Daily Quest "Eidolon Gossip Chapter 13 – Cesela": The Moon Goddess wants to be the lead singer of a band and the players must find out why.
New Quest "Deity Cultural Relic": This new Mirabelle quest requires a group of five players of at least level 25 to go to Crescent Hill to the Fame Bulletin Board to accept it. If the players are successful, they can receive the reward "Cultural Relic Lucky Pack".
Legendary Battle – Beast Master: Stop the powerful monsters that suddenly appear by using unique items ​ residents of the border village have. Experience the legend first-hand by challenging the Beast Master with your party of five to win the battle. The reward "Legendary Victory Treasure Chest IV" beckons!
Navea Event – Toxic Crisis: The city of Navea is suffering from a Poisonous Worm problem and is now in quarantine! Envoy, ask Gray to take the Poisoned Villagers back to the Safe Zone. But be careful you don't become poisoned yourself!
In addition to these new adventures, more quality-of-life improvements have been implemented (for example, the new feature: Buff Icon Optimization) that will make the lives of the Envoys easier.
For more information, please visit the following links:
---
About gamigo group
The gamigo group is one of the leading publishers of online and mobile games in Europe and North America. The group's diverse game portfolio includes free-to-play titles such as Fiesta Online, Trove and Aura Kingdom and mobile games like Fantasy Town and Heroes of Twilight. Counting more than 400 employees, gamigo group is one of the largest players in the gaming industry. Besides its German locations in Hamburg (HQ), Berlin and Darmstadt, the gamigo group also has branches in Austin and Bellevue (US), and in Seoul (South Korea). In addition to gamigo AG, the group includes the subsidiaries gamigo Inc. operating as "WildTangent", gamigo US Inc., gamigo Publishing GmbH, and KingsIsle Entertainment, Inc. The gamigo group strives to grow organically as well as through acquisitions. Since 2013, it has made more than 25 acquisitions, including titles, gaming and technology companies as well as individual game assets. The gamigo group is part of Media and Games Invest (MGI). Learn more about gamigo group at https://corporate.gamigo.com/. Learn more about MGI at https://mgi-se.com/.
gamigo Communications PR-Team, gamigo AG