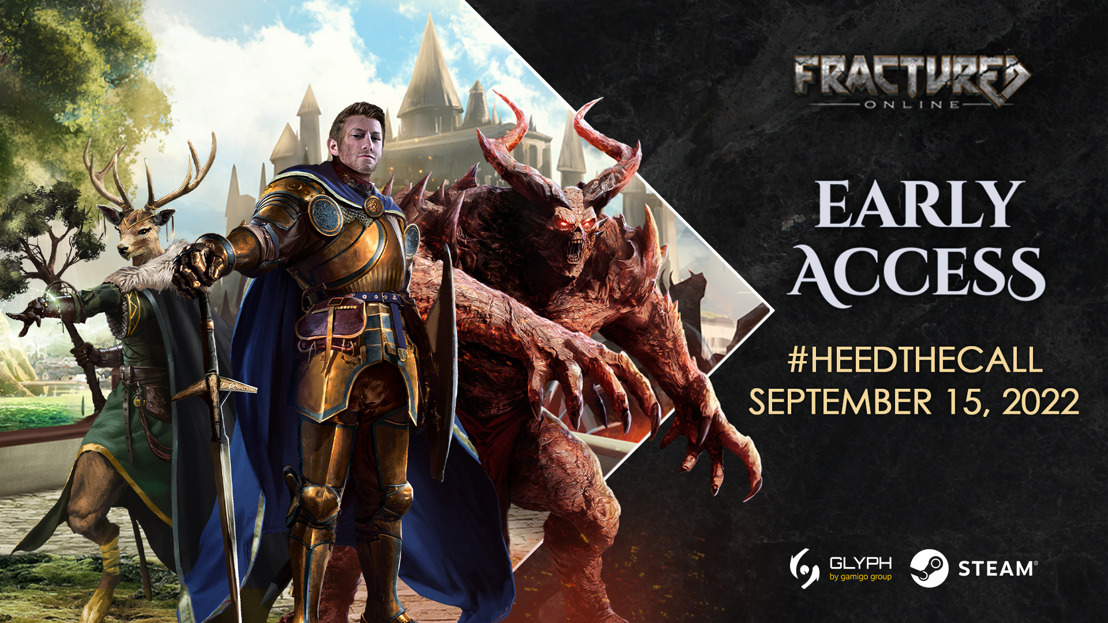 Fractured Online Coming to Steam Early Access
Steam users are encouraged to prepare for gamigo's next great MMORPG!
Hamburg, August 17, 2022 – gamigo and Dynamight Studios are announcing the upcoming Steam Early Access launch for their first truly dynamic, isometric open-world MMORPG – Fractured Online – on September 15.
When Fractured Online launches in Steam Early Access, players both new and old will be introduced to the planet of Arboreus and its inhabitants, the peaceful Wildfolk. Their inclusion marks the first time a race other than Humans has been available in the Fractured Online, thus giving players even more control over their playstyle and how they want to interact with the game's world.
The Wildfolk show a strong attachment to nature, living in harmony and fighting anything that threatens the balance of their lands. This bond with nature grants them a natural affinity towards druid magic, drawing power directly from the planet, and are capable of morphing into their animal counterpart at will. The Wildfolk are also unique in that they have sub-races that include the tiger-like Chadra, the wolf-kin Udoadra, the bear-kin Nheedra, and the hart-kin Erwydra. Each sub-race has its own strengths and weaknesses, such as the Chadra being capable warriors that lean more towards fighting, while the Erwydra are naturally more inclined to practice magic as they are extremely intelligent and have an excellent memory.
In addition to the inclusion of a new planet and race, the Steam Early Access launch marks another major milestone: Seasons. Members of a guild will be able to fulfill certain in-game actions to receive Season Points for their group. Each point brings a guild one step closer to the top of the leaderboards. The guild standing at the top will earn unique prizes that offer a number of bonuses, including City Relics capable of generating special buffs.
That's not all! Fractured Online's Steam Early Access launch will receive regular updates that include new areas to discover, new skills to learn, and even more exciting content over the coming months.
For more information on Fractured Online, please visit the following link:
https://linktr.ee/FracturedOnline
---
Download Assets:
---
About Dynamight Studios
Dynamight Studios is an indie game development studio based in Milan, Italy. Its mission is to innovate the world of sandbox MMOs by opening it up to audiences that have been cut off from what it believes is the most exciting online game genre - and one with exceptional growth perspectives, too. The studio is working to bring Fractured Online, its flagship game, to the global market. Fractured Online promises to breathe new life into the sandbox MMO genre with an all-new approach to inter-world gameplay, character progression and player settlement management.
About gamigo group
The gamigo group is one of the leading publishers of online and mobile games in Europe and North America. The group's diverse game portfolio includes free-to-play titles such as Fiesta Online, Trove and Aura Kingdom and mobile games like Fantasy Town and Heroes of Twilight. Counting more than 400 employees, gamigo group is one of the largest players in the gaming industry. Besides its German locations in Hamburg (HQ), Berlin and Darmstadt, the gamigo group also has branches in Austin and Bellevue (US), and in Seoul (South Korea). In addition to gamigo AG, the group includes the subsidiaries gamigo Inc. operating as "WildTangent", gamigo US Inc., gamigo Publishing GmbH and KingsIsle Entertainment, Inc. The gamigo group strives to grow organically as well as through acquisitions. Since 2013, it has made more than 25 acquisitions, including titles, gaming and technology companies as well as individual game assets. The gamigo group is part of Media and Games Invest (MGI). Learn more about gamigo group at https://corporate.gamigo.com/. Learn more about MGI at https://mgi-se.com/.
gamigo Communications PR-Team, gamigo AG